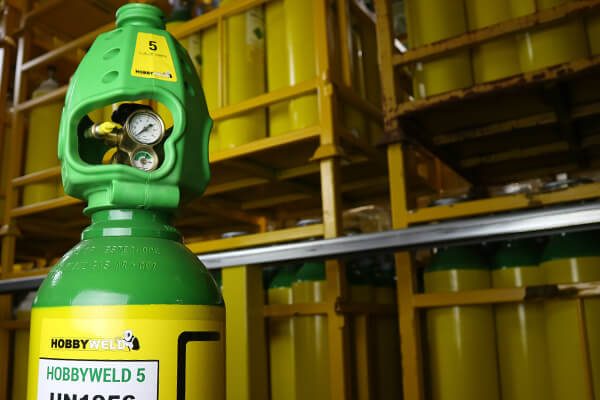 Hobbyweld Ultra cylinders are the largest in our product size offerings, consisting of a 20 litre HP (high pressure) cylinder and a 15.9 litre DA (dissolved acetylene) cylinder.
The 20 litre HP cylinder has a height of 1050mm, weighing around 35kg. The 15.9 litre acetylene cylinder stands at 875mm high with a weight of 35kg.
Please note: the cylinder tare weight may vary slightly due to the manufacturing process.
The Ultra range are our most technologically advanced cylinders, coming complete with a built-in regulator called a VIPR (Valve with Integrated Pressure Regulator). The VIPR integrates many functions within a compact design, including pressure regulation, an emergency shut off valve, contents and flow gauge.
The cylinder and integrated VIPR is maintained by Hobbyweld, meaning you never need to buy, repair or calibrate a regulator ever again.
Each Hobbyweld Ultra comes complete with a quick action coupling on payment of the deposit, making it easy to get set up and welding. If you happen to misplace your coupling, your local Hobbyweld agent will be able to sell you a new one.
Cylinder Capacity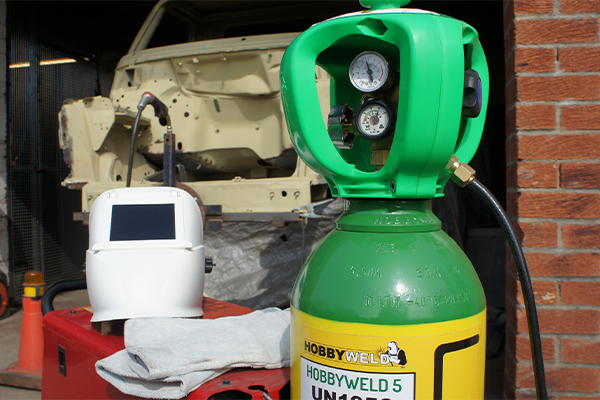 Although the 20 litre Ultra cylinder has the same physical size as it's Plus counterpart, there is a 30% increase in contents due to the increased pressure. Hobbyweld 5, Hobbyweld 15 and argon are filled to 300 bar, the Ultra oxygen is currently filled to 230 bar.
The increased pressure makes them the most cost effective in terms of refill value and they last a whole lot longer than similar products on the market, providing 460 minutes(1) of continuous welding time out of a Hobbyweld 5 welding gas cylinder.
For the rent free acetylene user, the 15.9 litre cylinder is filled with 2,805g of product giving a raw, uninterrupted welding time of 1070 minutes(2).
The Ultra cylinder stands firmly at the peak of rent-free gas products in terms of quality, technology, size and value. The truth is, if you're a high-volume user requiring a larger cylinder, you should reconsider the rental option.
Connectivity
Hobbyweld Ultra cylinders are fitted with a VIPR valve – this valve is fully adjustable and requires a quick-action coupling to connect to your equipment. A free coupling is provided with your first cylinder and replacements are available to purchase from any Hobbyweld agent.
Connections;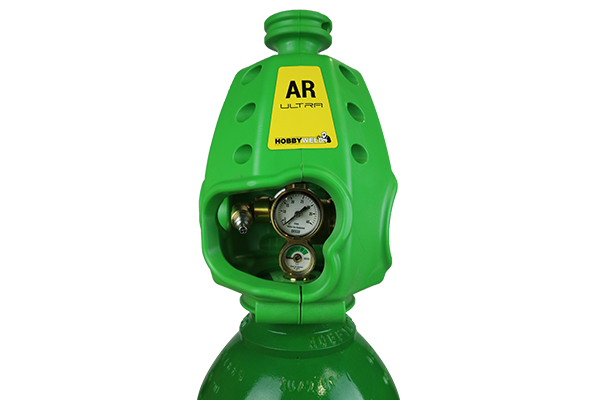 EN-561 Inert Quick Action Coupling – with 3/8" BSP right-hand male outlet
Fitted to Hobbyweld 5, Hobbyweld 15, and high purity argon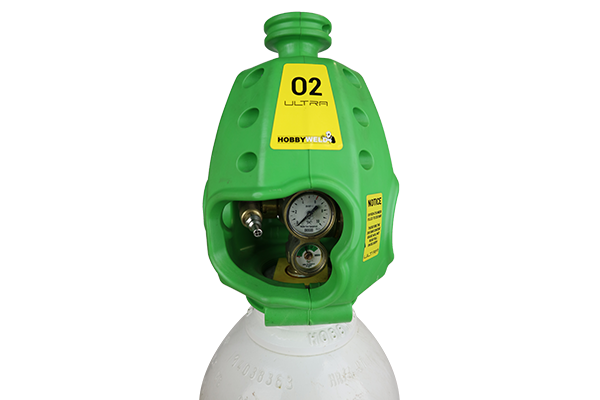 EN-561 Oxygen Quick Action Coupling – with 3/8" BSP right-hand male outlet
Fitted to oxygen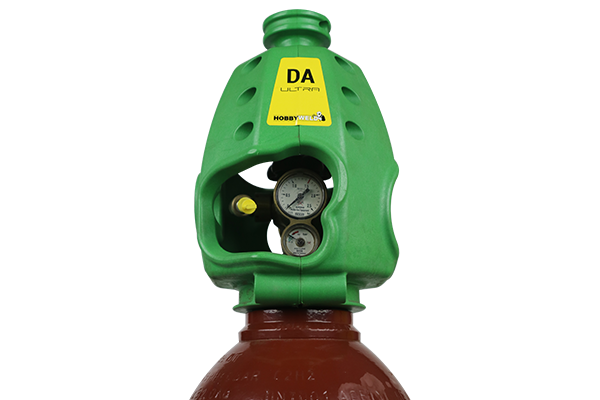 EN-561 Flammable Quick Action Coupling – with 3/8" BSP left-hand male outlet
Fitted to dissolved acetylene
(1) Hobbyweld 5 MIG welding time based on a setting of 14 litres per minute.
(2) Acetylene welding time based on a setting of 142 litres per hour using a number 5 welding nozzle.