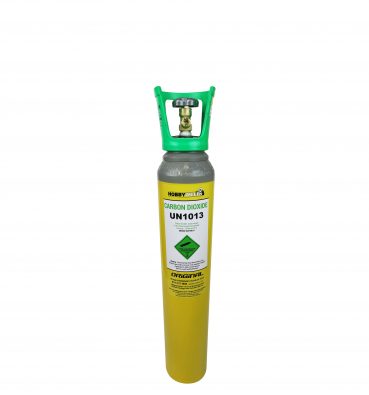 Carbon Dioxide (Food Grade)
Carbon Dioxide Food Grade can be used for drinks dispense use, either at home or professionally.
It is used primarily to carbonate drinks, but is also used as a propellant (to push your drink through your drinks lines through your pump and into your glass. Our Carbon Dioxide Food Grade are labelled to separate them from the other gas cylinders, reducing the chance of cross contamination.
If you are looking for carbon dioxide for other purposes than what is outlined above, please see our Carbon Dioxide Industrial Grade.
Please contact your local agent for prices and availability.
Hobbyweld Cylinder Deposit
The Hobbyweld Cylinder Deposit is a one-off, refundable charge. There is no limit to how long you keep the cylinder and you can exchange it as often or as little as you like.

If you need to return the cylinder, take it to any Hobbyweld stockist for a refund (note: You will need your deposit form and a small admin charge applies).

A cost effective alternative for occasional use when compared to monthly or annual rental charges.