Safe Use of Oxygen and Acetylene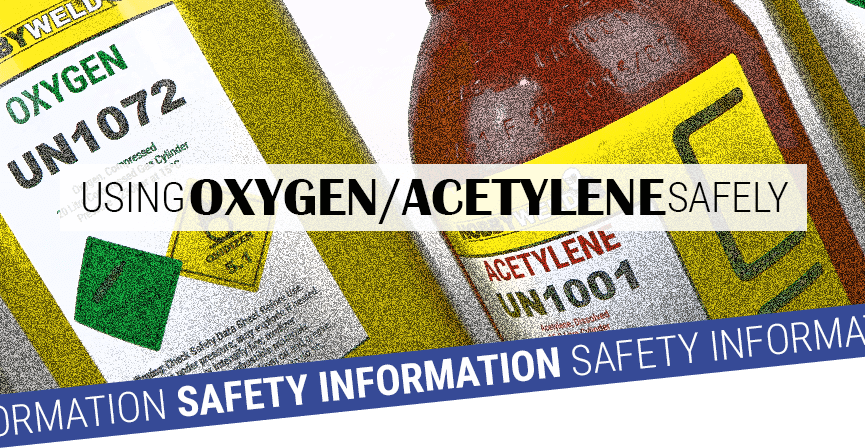 The combination of Oxygen (O2) and Acetylene (DA) can be used for many purposes – welding, cutting, heating, straightening and descaling. Throughout the restoration market, these gases are used so frequently that people sometimes forget the dangers associated with them. Injuries occur every year, sometimes even death, due to incorrect or careless use of the products. We have outlined the hazards related to the gases and prevention steps for avoiding injury and damage to property.
Hazards to be aware of when using Oxygen and Acetylene
Fire can be caused by heat, sparks or direct contact with the torch flame
Explosions can be caused by cylinders coming into direct contact with the torch flame
Gas leaks and flashbacks can cause fires and explosions
Dangerous fumes are created during flame cutting
How to prevent each hazard
Fire from heat, sparks or direct contact with torch flame
Move the project to a safe location designed for excessive temperature/hot metal work
Remove all combustible materials – such as flammable liquids, wood, textiles, packaging and plastics – and protect the ones that cannot be moved with covers like fire blankets
Keep a compatible fire extinguisher nearby – therefore if a fire were to break out, it can quickly be contained
Explosions due to direct torch flame contact
Turn your torch off between applications.
Don't rest a lit torch on or around gas cylinders
There have been instances when people have used cylinder bodies to make a 'unique' BBQ and have seriously injured themselves. NEVER attempt it. Your life is more important.
Gas leaks
Turn gas supply off directly from the cylinders after every use and double check before moving or transporting
Keep hoses away from any surface that could puncture or impair the quality of the hose
Maintain all equipment and regularly check its condition
Use a leak detecting spray suitable for use with Oxygen and fuel (Acetylene) – do not use home made alternatives
Do not use a naked flame to detect the leak
Immediately repair or replace the leaking component
If the cylinder is leaking when the valve is closed, isolate to an open area (with a 3 metre radius) and contact the gas company immediately
Flashbacks
It is a Legal Requirement to fit flashback arrestors to your equipment – NEVER attempt to work without them.
Make sure there are flashback arrestors fitted to the Oxygen and Acetylene regulators – for longer hoses, fit an arrestor to both the torch and regulator
Use the correct lighting up procedure. Purge the hose to remove any residue of explosive gas mixtures. Light the gas as soon as it is turned on
Fit spring-loaded non-return valves to the blowpipe
Use the correct pressure and nozzle for the job
Maintain equipment quality
Fumes created during flame cutting
If working outside, try – if possible – to work in a position where wind will blow the fume cloud away from the work space, you and other people
If working indoors, it is advised to use an extractor and RPE (respiratory protective equipment) to drastically reduce the chances of inhaling the fumes produced.
Disclaimer: At the time of writing (June 2019), all details are correct and adhere to legislation and laws. The information has been provided to encourage best practices and ensure you consider safe practices when using our gas/es. The information used in this article was obtained from BCGA and HSE.
Article by Alexandra Hanvey  |  Visuals by Alexandra Hanvey
Categories