Handling and Storing Gas Cylinders Safely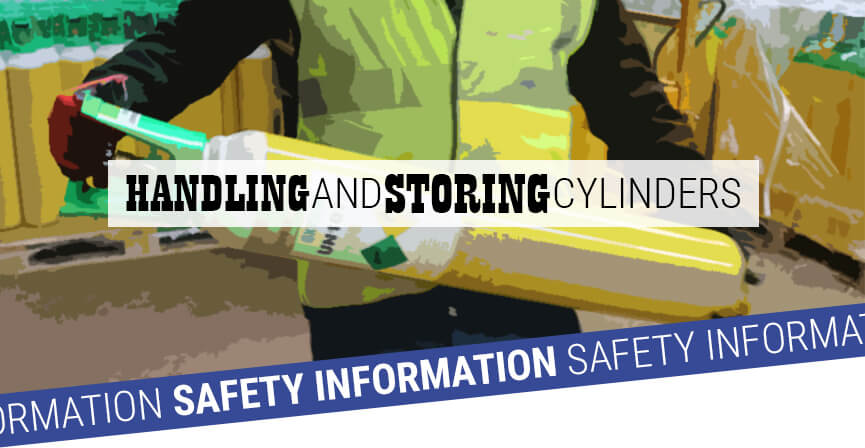 Following on from our post about safely transporting gas cylinders, this blog post will focus on the safety of handling and storing gas cylinders. These guidelines apply to both full and empty cylinders.
When handling cylinders, there are a few important guidelines to consider:
First of all, ensure that you are wearing the correct PPE to handle gas cylinders such as gloves, covered shoes etc.
Whether it's an Original, +Plus or Ultra cylinder, make sure your back is protected whilst carrying the cylinders by carrying it close to your body and not leaning over to pick it up. To avoid injury do not lift more than one cylinder at a time.
If you are using a forklift or trolley to transport one or several cylinders, it is crucial that they are properly secured upright to avoid the possibility of the cylinder/s falling and causing injury.
It is very important that cylinders are carried correctly and not rolled, dragged or dropped. For more information please download our Handling Guidelines.
When storing gas cylinders, it is important to:
Store gas cylinders in a well ventilated, sheltered area on a level surface. Outside is preferable for this, however, cylinders can be stored inside a building designed for their storage only.
Store cylinders upright and safely secured or fastened to avoid falling.
Avoid cylinders being stored in places where there is any dirt such as oil or grease, any water or anything that could puncture a cylinder. Ensure cylinder storage spaces are clean and safe.
Avoid exposing cylinders to heat or ignition – cylinders contain compressed gas and can become deadly when heated.
Check that the valves are fully and securely closed even on empty cylinders.
For long term storage, it is advised to keep LPG and Acetylene cylinders at least three metres away from other gas cylinders. Should you have any concerns, please contact us for more information.
Please download our Storing Guidelines to ensure your storage meets the necessary criteria.
Disclaimer of liability: Whilst proper care has been taken in the preparation of this document, no liability for injury or damage resulting from it's use can be accepted. Safety is your responsibility.
Article by Catherine McGowan
Categories