Cylinder Capacity
Our 9 litre HP original range are filled to a pressure of 137 bar (1987 psi), to put that into perspective, a typical car tyre is only filled to around 33 psi.
For the MIG welders, a 9 litre Hobbyweld 5 cylinder would provide around 100 minutes(1) of continuous use. The welding time is typically higher for TIG welding applications.
Carbon Dioxide under pressure takes the form of a liquid, which is measurable by weight. Both our industrial CO2 and food grade CO2 cylinders are filled with 6kg of product, the same quantity of gas that a typical pub would use in their cellar.
Finally, our 5 litre (portapack) DA cylinders are filled with 882g of acetylene dissolved in acetone, giving around 370 minutes(2) of continuous welding.
If you're currently using disposable MIG welding cartridges, the Hobbyweld Original range is the perfect alternative. Not only are our cylinders better for the environment and built to last, you'll benefit from infrequent visits to the local hardware store, whilst saving a tonne of money too.
One 9 litre shielding gas cylinder is comparable to 23 disposable gas cartridges. With typical prices ranging from £12 to £14 per cartridge, you'd be shelling out at least £276 for the same amount of gas as just one of our cylinders. It's easy to see why we are often the first port of call when upgrading a welding setup.
Connectivity
Hobbyweld Original cylinders are fitted with industry standard valves – the same valves you would typically find on larger industrial gas cylinders, such as our medium sized Plus range.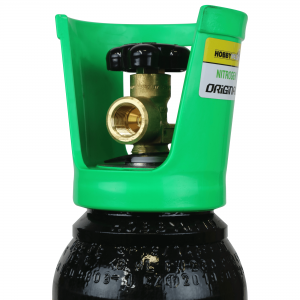 5/8" BSP right-hand female
Fitted to Hobbyweld 5, Hobbyweld 15, Argon, Oxygen, Nitrogen and Helium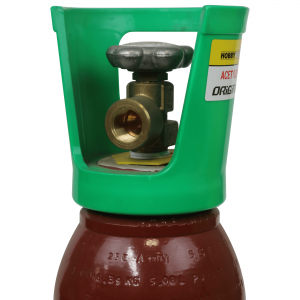 5/8" BSP left-hand female
Fitted to Dissolved Acetylene
In line with The Acetylene Safety Regulations 2014. FBAs (Flash Back Arrestors) and regulators must be fitted when connected to acetylene equipment. Hobbyweld cannot be held responsible for the misuse of these products.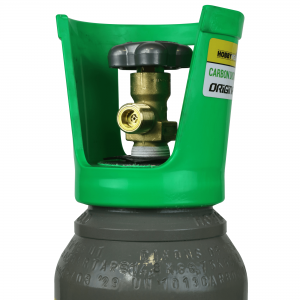 0.860" x 14 TPI right-hand male
Fitted to Carbon Dioxide (Industrial Grade) and Carbon Dioxide (Food Grade)
Many welding machines are supplied with certified regulators which fit our cylinder perfectly, so no need to hunt around for adaptors. If you have been using disposable cartridges, and upgrading to a Hobbyweld cylinder, a gas conversion hose may be required to get you up and running – your local Hobbyweld agent can supply these.
(1) Hobbyweld 5 MIG welding time based on a setting of 14 litres per minute.
(2) Acetylene welding time based on a setting of 142 litres per hour using a number 5 welding nozzle.